Support the Library
Friends of the Library
Friends help the library in countless ways.  Please join us to discuss ways to support the library's programs. We meet at the library the first Thursday of each month at 5:30 pm, August – June.  There are no meetings in December or July.  Call us or come by to find out more – 918-358-2676.
The Friendly Book Browser
Come visit the Friendly Book Browser at 211 E. Kiowa Street across the parking lot from the library. We have used books for all ages.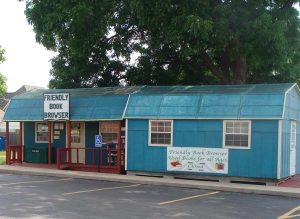 Support your love of books!
Open Wednesday, Thursday, and Saturday from 10:00 am- 2:00 pm.
The Browser is staffed by volunteers and all proceeds benefit the library.
If the temperature is below freezing (32 degrees) or above 95, the Book Browser will be closed.
Volunteer
We encourage volunteers to join our team at the library. You offer a valuable service, not only to the community, but to the library staff as well.
We'd love to have your help: shelving books and straightening shelves, making story times and youth programs successful and fun, and other supportive activities.
What You Need to Know
You may answer directional and simple questions. However, we ask you to refer more in-depth questions and information needs to an appropriate staff person. We'll assign you to work with someone on the library staff. Volunteers work under the supervision of the library director and staff members.